Take part in the Winter Wonderland Tournament from December 29, 12:00 UTC through January 4, 11:00 UTC and snatch 'em prizes!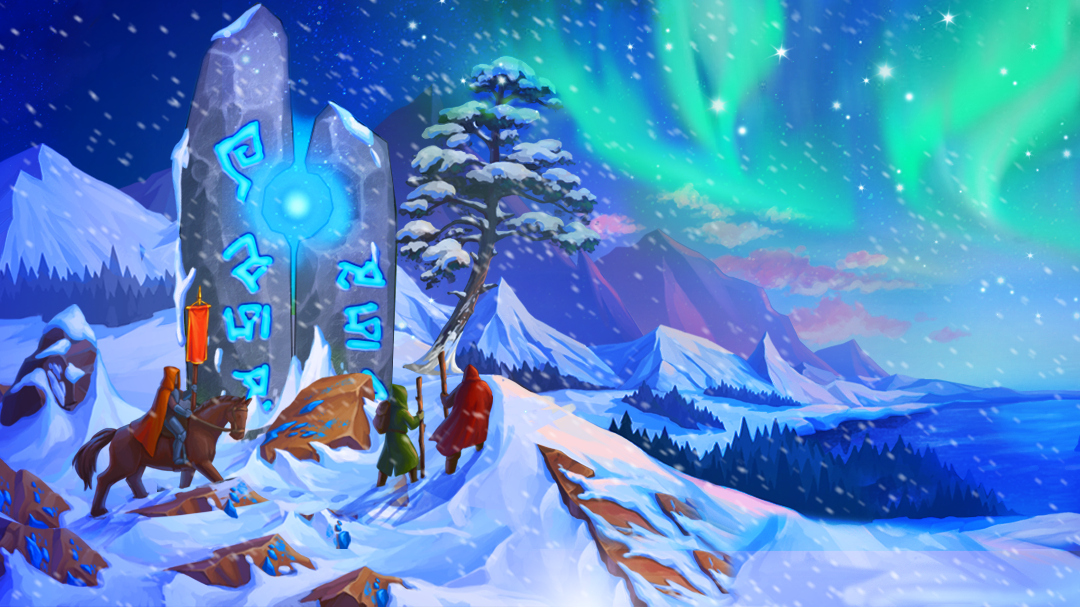 🏰 First up — The Tower of Izanagi city skin that gives you:
Experience earned in battle +200%
Valor Production +300%
Bonus to Attack +20%
Unit Recruitment speed + 150%
House capacity +100%
But apart from that, you can also get Crystals, Accelerations, Valor and millions of resources in this tournament!
HOW TO PLAY
Join forces and beat the following alliance events to earn tournament points.
For Level 6 chests:
The Great Hunt (30.12) — 4 mln points (60k per player)
The Power of the Team (31.12) — 200 mln points (3 mln per player)
Blacksmithing (01.01) — 180k points (3k per player)
The Royal Edicts (02.01) — 140k points (2k per player)
Resource Gathering (03.01) — 1,4 bln points (20 mln per player)
Chests ranging 1 through 6 will earn you the following number of points:
Level 1 Chest earns you 1 tournament point
Level 2 Chest — 2 tournament points
Level 3 Chest — 3 tournament points
Level 4 Chest — 4 tournament points
Level 5 Chest — 6 tournament points
Level 6 Chest — 10 tournament points
REWARDS
There's a total of five milestones available this time, each with their own set of rewards. These are available to all players, provided that their alliance earns the required amount of points.
🎁 Rewards for 50 tournament points:
100k Crystals
Accelerations for 45d
2 mln Valor
Tower of Izanagi for 7d
10 mln gold, stone, wood
🎁 40 tournament points:
50k Crystals
Accelerations for 30d
1 mln Valor
Tower of Izanagi for 3d
7,5 mln gold, stone, wood
🎁 30 tournament points:
25k Crystals
Accelerations for 21d
500k Valor
Tower of Izanagi for 1d
5 mln gold, stone, wood
🎁 20 tournament points:
10k Crystals
Accelerations for 15d
250k Valor
3 mln gold, stone, wood
🎁 10 tournament points:
5k Crystals
Accelerations for 5d
100k Valor
1 mln gold, stone, wood
EXTRA REWARDS
Looking for some hardcore competition and worthy rewards? Join the 10 chest Solo Monster Hunt on January 2 and win 35k crystals!
Level 9 Chest brings:
Chieftain XP: 250k
4k energy
March acceleration +50% x5
March acceleration +25% x5
March acceleration +10% x5
Potion of Attack +30% for 1h x4
Potion of Defense +30% for 1h x4
Epic Sphere of Summoning x3
Elite Sphere of Summoning VIII x20
Level 10 Chest brings:
20k Crystals
Chieftain XP: 500k
Castle Nightcrest for 3d

Legendary Ice Materials Chest x5
Relics of Worship x2
Amulet of Capacity (+10 for 3d)
Amulet of Luck (+30% for 3d)
Legendary mysterious rune
Acceleration: 7d
Acceleration: 3d
1 mln gold, stone, wood
MILESTONES
Level 1 chest — 2,2k points
Level 2 chest — 5k points
Level 3 chest — 15k points
Level 4 chest — 40k points
Level 5 chest — 80k points
Level 6 chest — 150k points
Level 7 chest — 210k points
Level 8 chest — 300k points
Level 9 chest — 375k points
Level 10 chest — 550k points
Winter is here!