Overview
Guardian Gods are the new deities in the game. Once summoned, they provide everlasting city bonuses which can be refreshed and upgraded further. The first Guardian coming to the realm is Nithra! She has been observing our reality for a while and the time has come for her to reveal herself.
Important!
Guardians can be summoned only if you have Citadel level 11 or higher. They can be summoned from the new Guardian Gods space in the Altar of Summoning.
Boons
A summoned guardian God provides Boons, which are bonuses affecting the city and helping you with your progress.


Guardians' bonuses are tiered by their devotion levels. The higher your level of devotion - the better the boons. Every Guardian has starter bonuses that are always active. The Guardians have no limited duration. Meaning that once you summon a Guardian you can keep it as long as you want.
Curses
Guardians also give Curses, which bring negative effects to your city. Nithra, however, is the only Guardian that doesn't have any curses!
Guardians
This section will be updated once more Guardians reach the realm! They are on their way.
Nithra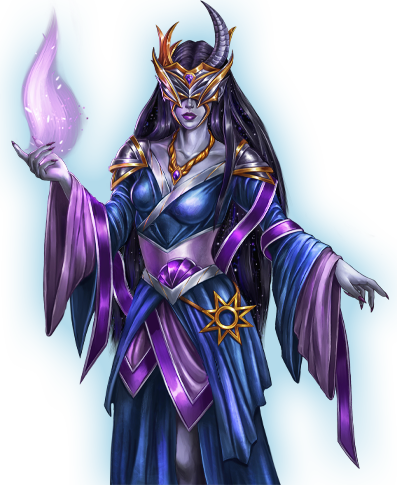 | | | | | | | |
| --- | --- | --- | --- | --- | --- | --- |
| Bonus | Devotion 0 | Devotion 1 | Devotion 2 | Devotion 3 | Devotion 4 | Devotion 5 |
| Resource Production | 10.00% | 20.00% | 30.00% | 40.00% | 75.00% | 100.00% |
| Outpost Resources | 5.00% | 10.00% | 15.00% | 20.00% | 35.00% | 50.00% |
| Resources retained in the Warehouse | 10.00% | 20.00% | 30.00% | 40.00% | 75.00% | 100.00% |
| Experience | 25.00% | 50.00% | 75.00% | 100.00% | 150.00% | 200.00% |
Summoning
When a Guardian is summoned, you get a set of Boons and Curses described above. There are also five levels of devotion. By leveling up the devotion, you can increase the Boons and decrease the Curses (see Devotion). While the devotion level 0 is permanent, the higher levels are not. The duration will increase with each level and you need to keep showing your god how devoted you are and keep pushing the levels forward. If the timer runs out the devotion level is reduced by 1.
The devotion is always level 0 when the Guardian is summoned for the first time.
Summoning a Guardian or switching it takes 24 hours.
Requirements to summon a Guardian
The only requirement for summoning a Guardian is to have Soul Stones. Each Guardian has their own variety of Soul Stones depending on their allegiance.
There is also a set duration of the summoning (ranges from low for low levels to higher for higher levels).
Devotion
Guardians can be leveled up further by investing more Soul Stones. With each new devotion level, you can increase the impact and duration of the boons. You also get the possibility to unlock new ones and decrease or remove the curses. While summoning has timers, leveling up the devotion is instant.
Soul Stones are assorted by the deity type:
Lazurite (North)

Amber (East) — Nithra

Rubellite (South)

Nephrite (West)
Shards for specific units are not unique: several gods can use the same type of shards to be summoned or leveled up. Shards themselves can be obtained as rewards in various game activities such as Expeditions, bundles, from the Altar of Rituals and so on.
Allegiances:
Guardians of North: bonuses focused on defense, stone usage, craft. Northern Guardians are using Lazurite Soul Stones as the resource.

Guardians of East: bonuses focused on speed, gold, recovery, march speed. Eastern Guardians are using Amber Soul Stones as the resource.

Guardians of South: bonuses focused on wood, resources production, army capacity. Southern Guardians are using Rubellite Soul Stones as the resource.

Guardians of West: bonuses focused on stardust, attack, speed of research and building. Western Guardians are using Nephrite Soul Stones as the resource.
Summary
Only one Guardian can be active at a given time.

If you decide to summon another Guardian, the current one's effect is lasting until the new Guardian is summoned. Once the new Guardian is summoned, the previous one becomes inactive and available to re-summon once again if you wish so.

While summoning is in progress, it can't be stopped, and any other Guardian can't be summoned at the same time.

By default, you have Nithra summoned (you can replace her and switch back later once the other Guardians arrive).

If your Guardian devotion is level 1, then the Guardian gets activated and its

Boons/Curses will be active until you decide to summon another Guardian.

If your Guardian devotion is between levels 2-5, then the Guardian's boons are improved and the curses, if it has any, are reduced or even removed. Increasing the devotion level will require more Soul Stones every time. But the higher the level the bigger the benefit and duration of the boons. This remaining timer will be displayed in your Guardian window, which you can find in the Altar of Summoning.

Once the timer for devotion level runs out the current devotion Boons/Curses switch off and the ones from the previous level turn on. The timer for the previous level starts anew and the procedure repeats until level 1 reached.The higher levels of devotion last longer.

If you decide to switch the Guardian the process repeats.
Visibility and Rarity
You and other players can check your current Guardian by tapping on your city on the global map. The Guardian you have summoned currently will appear above your city's information.
Each Guardian has their own rarity gradation from 1 star to 5 stars. Rarity is mostly a cosmetic feature.