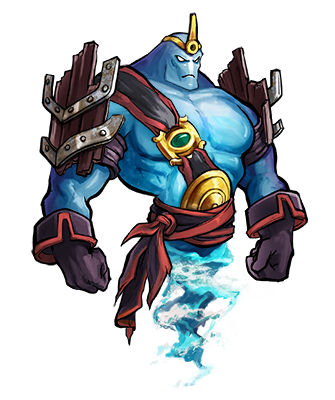 Class: Battle Mage
Weight: 6
Race: no race
Time: 6300
Gold: 2600
Wood: 860
Attack type: magical
| Level | Health | Speed | Attack | P.Def | M.Def |
| --- | --- | --- | --- | --- | --- |
| 0 | 5723 | 426 | 3514 | 390 | 699 |
| 1 | 5884 | 450 | 3788 | 424 | 709 |
| 2 | 6049 | 475 | 4084 | 462 | 720 |
| 3 | 6219 | 502 | 4402 | 503 | 731 |
| 4 | 6394 | 530 | 4745 | 547 | 741 |
| 5 | 6573 | 559 | 5115 | 595 | 752 |
| 6 | 6758 | 591 | 5514 | 648 | 763 |
| 7 | 6948 | 624 | 5944 | 705 | 775 |
| 8 | 7143 | 659 | 6408 | 767 | 786 |
| 9 | 7343 | 696 | 6908 | 834 | 798 |
| 10 | 7550 | 735 | 7447 | 908 | 810 |
| 11 | 7762 | 776 | 8027 | 988 | 822 |
| 12 | 7980 | 819 | 8653 | 1075 | 834 |
| 13 | 8204 | 865 | 9328 | 1170 | 846 |
| 14 | 8434 | 914 | 10056 | 1273 | 859 |
Water Elemental is a Battle Mage type unit with good magic attack, average defense and speed. This unit has an ability that gives it a chance to deal area damage to 2 to 4 enemies, and can decimate entire armies when triggered.
Water Elementals take reduced physical damage at the cost of taking increased magic damage, making them weak to enemy Battle Mages and Sorcerers but strong and sturdy against Ranged Units, Fighters and Protector unit types. Efreets and Demons of Wrath also deal 50% more damage to Water Elementals both with basic attacks and abilities.
When a Neptune uses their ability, 20% of the original squad of Water Elementals are revived.