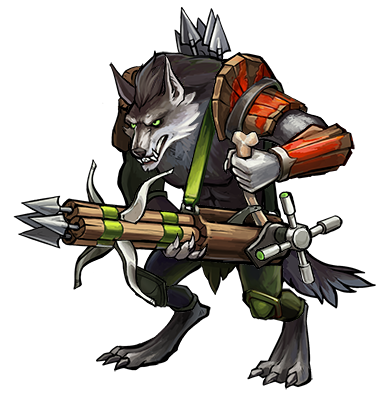 Class: Ranged
Weight: 3
Race: Beast
Time: 160
Gold: 170
Attack type: physical
| Level | Health | Speed | Attack | P.Def | M.Def |
| --- | --- | --- | --- | --- | --- |
| 0 | 1187 | 515 | 799 | 336 | 169 |
| 1 | 1261 | 545 | 869 | 357 | 180 |
| 2 | 1340 | 578 | 945 | 379 | 192 |
| 3 | 1425 | 612 | 1028 | 403 | 204 |
| 4 | 1514 | 648 | 1118 | 428 | 217 |
| 5 | 1609 | 687 | 1215 | 455 | 231 |
| 6 | 1710 | 727 | 1322 | 483 | 246 |
| 7 | 1817 | 770 | 1438 | 513 | 262 |
| 8 | 1931 | 816 | 1563 | 545 | 279 |
| 9 | 2052 | 864 | 1700 | 579 | 297 |
| 10 | 2180 | 915 | 1849 | 615 | 316 |
| 11 | 2317 | 969 | 2011 | 654 | 336 |
| 12 | 2462 | 1027 | 2187 | 694 | 358 |
| 13 | 2616 | 1088 | 2378 | 738 | 381 |
| 14 | 2780 | 1152 | 2586 | 784 | 405 |
Lycan is a Ranged Unit with average attack, defense and good speed. Lycans are the prime damage dealing unit for the Forest (Artemios) branch. Their ability allows this unit to attack its main target and any other enemy squad that skips their turn. As a result, this makes for a perfect synergy with a range of Forest God units, as several of them have disables (dancing, stuns, immobilizing).
There are several properties to the Lycan's abilities: first, it always deals critical damage with its secondary attacks (to other enemy squad that skips their turn). Second, this secondary attack cannot be blocked.
Lycans belong to the race of Beasts, which grants them the shared racial passive: gut-feeling. It allows the Beast to deal 20% more damage to a previously attacked target, or to a target that's previously attacked the Beast. At the same time, this unit is also subject to any skills or abilities affecting Beasts, most notably those of the Catcher.
| Level | Skill |
| --- | --- |
| 0 | Attacks both its initial target and any other squad that skips a turn. Each squad takes damage equal to 50% of the Lycan's base attack value. |
| 1 | Attacks both its initial target and any other squad that skips a turn. Each squad takes damage equal to 55% of the Lycan's base attack value. |
| 2 | Attacks both its initial target and any other squad that skips a turn. Each squad takes damage equal to 60% of the Lycan's base attack value. |
| 3 | Attacks both its initial target and any other squad that skips a turn. Each squad takes damage equal to 65% of the Lycan's base attack value. |
| 4 | Attacks both its initial target and any other squad that skips a turn. Each squad takes damage equal to 70% of the Lycan's base attack value. |
| 5 | Attacks both its initial target and any other squad that skips a turn. Each squad takes damage equal to 75% of the Lycan's base attack value. |
| 6 | Attacks both its initial target and any other squad that skips a turn. Each squad takes damage equal to 80% of the Lycan's base attack value. |
| 7 | Attacks both its initial target and any other squad that skips a turn. Each squad takes damage equal to 85% of the Lycan's base attack value. |
| 8 | Attacks both its initial target and any other squad that skips a turn. Each squad takes damage equal to 90% of the Lycan's base attack value. |
| 9 | Attacks both its initial target and any other squad that skips a turn. Each squad takes damage equal to 95% of the Lycan's base attack value. |
| 10 | Attacks both its initial target and any other squad that skips a turn. Each squad takes damage equal to 100% of the Lycan's base attack value. |
| 11 | Attacks both its initial target and any other squad that skips a turn. Each squad takes damage equal to 105% of the Lycan's base attack value. |
| 12 | Attacks both its initial target and any other squad that skips a turn. Each squad takes damage equal to 110% of the Lycan's base attack value. |
| 13 | Attacks both its initial target and any other squad that skips a turn. Each squad takes damage equal to 115% of the Lycan's base attack value. |
| 14 | Attacks both its initial target and any other squad that skips a turn. Each squad takes damage equal to 120% of the Lycan's base attack value. |
| | + gets no penalty on any row, with no regards to class |