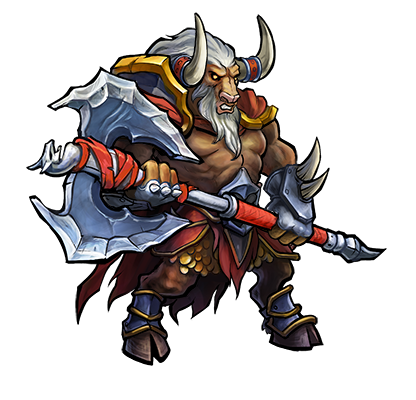 Class: Fighter
Weight: 10
Race: Beast
Time: 28800
Gold: 8400
Wood: 1400
Stone: 1400
Stardust: 1400
Attack type: physical
| Level | Health | Speed | Attack | P.Def | M.Def |
| --- | --- | --- | --- | --- | --- |
| 0 | 19463 | 343 | 14554 | 909 | 524 |
| 1 | 19930 | 364 | 15054 | 960 | 550 |
| 2 | 20408 | 386 | 15572 | 1015 | 578 |
| 3 | 20897 | 409 | 16107 | 1072 | 607 |
| 4 | 21398 | 433 | 16661 | 1133 | 637 |
| 5 | 21912 | 460 | 17234 | 1197 | 669 |
| 6 | 22437 | 487 | 17826 | 1265 | 702 |
| 7 | 22975 | 517 | 18439 | 1337 | 737 |
| 8 | 23526 | 548 | 19073 | 1413 | 774 |
| 9 | 24090 | 581 | 19729 | 1493 | 813 |
| 10 | 24668 | 616 | 20407 | 1577 | 854 |
| 11 | 25260 | 653 | 21108 | 1666 | 896 |
| 12 | 25866 | 692 | 21834 | 1761 | 941 |
| 13 | 26486 | 734 | 22585 | 1861 | 988 |
| 14 | 27121 | 778 | 23361 | 1966 | 1038 |
Minotaur is the Epic tier Fighter type unit for Stone (Teraxes) players, with high attack, defense and low-to-average speed. Its ability grants it a chance to summon a dragon to fly over the battlefield, dealing damage to all enemy units and putting them on fire.
Minotaurs belong to the race of Beasts, which grants them the shared racial passive: gut-feeling. It allows the Beast to deal 20% more damage to a previously attacked target, or to a target that's previously attacked the Beast. At the same time, this unit is also subject to any skills or abilities affecting Beasts, most notably those of the Catcher.
Has a 31% chance to summon a dragon to fly over and deal 50% damage to all enemy targets and set them on fire. Fire deals damage in the amount of 6% of the base attack of all Minotaurs in the squad.
Properties:
Can be affected by the Goblin's ability (bonus speed)
| Level | Skill |
| --- | --- |
| 0 | Has a 31% chance to summon a dragon to fly over and deal 50% damage to all enemy targets and set them on fire. Fire deals damage in the amount of 6% of the attack of all Minotaurs in the squad. |
| 1 | Has a 33% chance to summon a dragon to fly over and deal 52% damage to all enemy targets and set them on fire. Fire deals damage in the amount of 6% of the attack of all Minotaurs in the squad. |
| 2 | Has a 35% chance to summon a dragon to fly over and deal 54% damage to all enemy targets and set them on fire. Fire deals damage in the amount of 6% of the attack of all Minotaurs in the squad. |
| 3 | Has a 37% chance to summon a dragon to fly over and deal 56% damage to all enemy targets and set them on fire. Fire deals damage in the amount of 6% of the attack of all Minotaurs in the squad. |
| 4 | Has a 39% chance to summon a dragon to fly over and deal 58% damage to all enemy targets and set them on fire. Fire deals damage in the amount of 6% of the attack of all Minotaurs in the squad. |
| 5 | Has a 41% chance to summon a dragon to fly over and deal 60% damage to all enemy targets and set them on fire. Fire deals damage in the amount of 6% of the attack of all Minotaurs in the squad. |
| 6 | Has a 43% chance to summon a dragon to fly over and deal 62% damage to all enemy targets and set them on fire. Fire deals damage in the amount of 6% of the attack of all Minotaurs in the squad. |
| 7 | Has a 45% chance to summon a dragon to fly over and deal 64% damage to all enemy targets and set them on fire. Fire deals damage in the amount of 6% of the attack of all Minotaurs in the squad. |
| 8 | Has a 47% chance to summon a dragon to fly over and deal 66% damage to all enemy targets and set them on fire. Fire deals damage in the amount of 6% of the attack of all Minotaurs in the squad. |
| 9 | Has a 49% chance to summon a dragon to fly over and deal 68% damage to all enemy targets and set them on fire. Fire deals damage in the amount of 6% of the attack of all Minotaurs in the squad. |
| 10 | Has a 51% chance to summon a dragon to fly over and deal 70% damage to all enemy targets and set them on fire. Fire deals damage in the amount of 6% of the attack of all Minotaurs in the squad. |
| 11 | Has a 53% chance to summon a dragon to fly over and deal 72% damage to all enemy targets and set them on fire. Fire deals damage in the amount of 6% of the attack of all Minotaurs in the squad. |
| 12 | Has a 55% chance to summon a dragon to fly over and deal 74% damage to all enemy targets and set them on fire. Fire deals damage in the amount of 6% of the attack of all Minotaurs in the squad. |
| 13 | Has a 57% chance to summon a dragon to fly over and deal 76% damage to all enemy targets and set them on fire. Fire deals damage in the amount of 6% of the attack of all Minotaurs in the squad. |
| 14 | Has a 60% chance to summon a dragon to fly over and deal 80% damage to all enemy targets and set them on fire. Fire deals damage in the amount of 6% of the attack of all Minotaurs in the squad. |