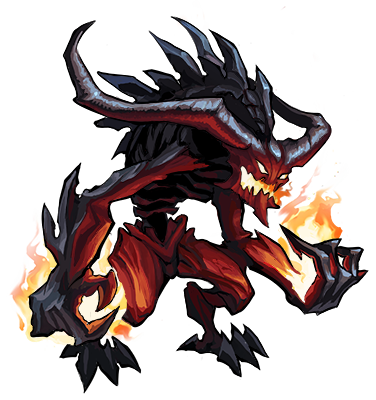 Class: Battle Mage
Race: Demon
Weight: 4
Time: 390
Gold: 400
Attack type: magical
| Level | Health | Speed | Attack | P.Def | M.Def |
| --- | --- | --- | --- | --- | --- |
| 0 | 2990 | 312 | 1066 | 314 | 443 |
| 1 | 3179 | 333 | 1142 | 333 | 470 |
| 2 | 3380 | 355 | 1224 | 352 | 498 |
| 3 | 3594 | 379 | 1312 | 373 | 528 |
| 4 | 3821 | 405 | 1405 | 395 | 560 |
| 5 | 4062 | 432 | 1506 | 419 | 594 |
| 6 | 4319 | 461 | 1614 | 443 | 630 |
| 7 | 4592 | 492 | 1729 | 470 | 668 |
| 8 | 4883 | 526 | 1853 | 497 | 708 |
| 9 | 5191 | 561 | 1985 | 527 | 751 |
| 10 | 5519 | 599 | 2127 | 558 | 796 |
| 11 | 5868 | 639 | 2280 | 591 | 844 |
| 12 | 6239 | 682 | 2443 | 626 | 895 |
| 13 | 6634 | 728 | 2617 | 663 | 949 |
| 14 | 7053 | 777 | 2805 | 702 | 1006 |
Demon of Wrath is a Battle Mage type unit with average magic attack and speed and good defensive stats. However, their ability allows them to wind up their damage for every received attack. In other words, the more they take damage, the more damage they'll eventually deal!
Demons of Wrath cannot be ignited, and it's important to note that their attacks deal 50% extra damage to Water Elementals, though they take same 50% extra damage from Water Elementals and Neptunes.
Properties:
Shared Demon racial ability: the effect of all debuffs on this character is reduced by 50%.
| Level | Skill |
| --- | --- |
| 0 | Each time this unit takes damage, its attack increases by 20% |
| 1 | Each time this unit takes damage, its attack increases by 25% |
| 2 | Each time this unit takes damage, its attack increases by 30% |
| 3 | Each time this unit takes damage, its attack increases by 35% |
| 4 | Each time this unit takes damage, its attack increases by 40% |
| 5 | Each time this unit takes damage, its attack increases by 45% |
| 6 | Each time this unit takes damage, its attack increases by 50% |
| 7 | Each time this unit takes damage, its attack increases by 55% |
| 8 | Each time this unit takes damage, its attack increases by 60% |
| 9 | Each time this unit takes damage, its attack increases by 65% |
| 10 | Each time this unit takes damage, its attack increases by 70% |
| 11 | Each time this unit takes damage, its attack increases by 72% |
| 12 | Each time this unit takes damage, its attack increases by 74% |
| 13 | Each time this unit takes damage, its attack increases by 76% |
| 14 | Each time this unit takes damage, its attack increases by 80% |
| | + can't be inflicted with Burn |
| | + receives +50% damage from Water Elemental and Neptune |